The Who
WHO DOES THE SURGERY?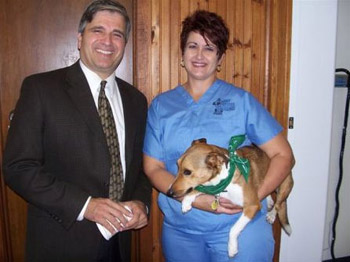 Dr. Suzanne Wilcox, a valley native and 1994 graduate of THE Ohio State University College of Veterinary Medicine. In 2009, Dr. Wilcox spayed or neutered over 6000 pets at SVSNC. Since SVSNC opened in late 2007, we have done over 25,000 successful surgeries! It is estimated in the past ten years alone Dr. Wilcox has done over 50,000 spay or neuter surgeries! Dr. Wilcox has become very proficient.
February 2012, Dr. Wilcox participated in continuing education classes (as she does every year) completing core classes in shelter medicine updates, minimal invasive surgery and pediatric spay neuter updated techniques. In fact, Dr. Wilcox and her staff routinely participate in continuing education opportunities to keep up with newest health information and drugs available in the veterinary industry.
Dr. Wilcox is also an avid horsewoman competing on local and national levels in American Quarter Horse Events. She is also active in the community donating time and helping out reputable charitable organizations. In addition, Dr. Wilcox has a green thumb, tending to lovely flower gardens at her home.
Dr. Wilcox is a member of:
She is also a member of the AQHA, NSBA, NOQHA, SOQHA, EOQHA, WPQHA, and NRHA.
Who Helps?
Dr. Wilcox has a full time Registered Veterinary Technician (RVT), two well-trained veterinary assistants with over 35 years combined experience between them, a certified medical assistant with 15 plus years' experience. They carefully monitor pets from start to finish through their surgical or wellness experience. Dr. Wilcox also has support staff that is not only experienced but compassionate. They treat the pets as if they were their own. Everyone is very professional, efficient and take great pride in the care of pets brought to us at Steel Valley Spay Neuter Clinic.